Helen is the proud founding member of brands EasyTots and EasyPets which showcased her passion for family and pets. These have been such a success that Helen has joined up with 2 other pet-loving, outdoor adventure seeking friends Louise and Andy to launch iKaboodle, home of EasyPets and sister to EasyTots.
Helen and Louise at DogFest North 2019
A bit of history
In 2016 EasyTots was launched and the UK's first suction place-mat for babies was born, this has since become a UK best seller. The multi-product baby range includes the award winning EasyMat mini, which has revolutionised travel feeding with babies and toddlers. The range was designed specifically to solve a common problem which was encountered with Helen's own daughter during the weaning stages. It has now been featured on UK shows 'This Morning' and 'Buy It Now'.
EasyPets are soon to follow suit with a slot on the BBC show 'The Customer Is Always Right'. Watch this space to see how we get on!
In 2017, with clearly too much spare time Helen joined with her partners to launch EasyPets. Here the focus was on our four-legged friends, with 6 dogs between us it was our aim to bring new and innovative products to the market that are useful, practical, fun and fitted in with our lifestyles.
Now we can introduce to you the Fold-a-Bowl and the Roll-a-bowl, portable hydration and feeding for your beloved pets.
Helen's furry friends Kaiser, Izzy and Tink
'Strike a pose'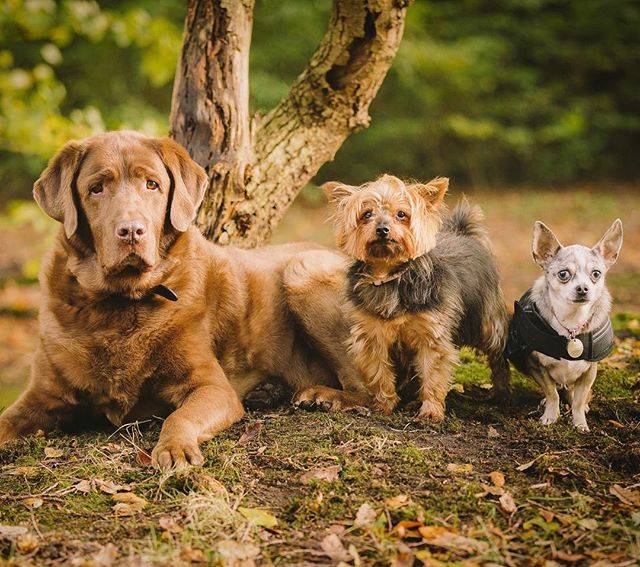 Ted - This is Louise's gorgeous 3 years old Australian Labradoodle. Once a tiny chocolate brown pup he now has the legs of a super model and golden blond locks to boot. He's not so great at recall, it's much more fun to look for other furry friends.
He is such a friendly giant who loves nothing more than running free on the beach or through the woods.
He came into the family and cured our then 4 year old of a real dog phobia. She now wants a friend for Ted!
'Ted just chilling'

Meet Ty our rescue Labrador
Andy and Rachel's gorgeous Ty has just turned a big 8 years old. We've had him since he was 2 from a Labrador rescue home in Chorley. He is the most caring loyal lovable dog and doesn't leave our sides. He adores the children and even lets them dress him up (girls clothes!) on a regular basis. He loves his new little sister Beau and they have formed the most beautiful friendship.
The latest addition to our family is Beau who is now 8 months old. She has bundles of energy and keeps us all on are toes, especially her big brother Ty. Beau loves nothing more than a big long run on a beach or climbing a mountain followed by lots of cuddles on the sofa. She is a very caring sensitive dog who needs lots of attention.